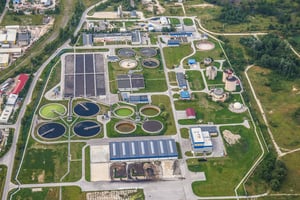 Water fuels life. It's an essential resource the world needs, so recycling it only makes sense. Recycled water and wastewater has environmental and economical benefits, and a variety of uses. While agricultural irrigation is a popular, non-potable application, potable uses are becoming more mainstream. Craft brewing has exploded onto the American beer scene, and with it brings the opportunity for small and independent breweries to play with nontraditional beer-making processes. But, the unchanging resource needed in all beer brewing? Water.
The 'toilet to tap' phrase is certainly catchy, but also raises concern in consumers. A primary reason for the public to assume 'recycled wastewater' + 'beer' = 'gross' is the question of water quality (and some psychology). To clarify, recycled wastewater is clean water that has been purified through a treatment to remove contaminants and pollutants. The U.S. Environmental Protection Agency (EPA), which oversees wastewater treatment and drinking water quality, created Guidelines for Water Reuse in 2012 and followed up with a Potable Reuse Compendium in 2017. States may also have regulations that govern the use of reclaimed wastewater within their borders. Other regulators for beer-made-with-recycled-wastewater products include the Alcohol and Tobacco Tax and Trade Bureau (TTB) and in some circumstances the U.S. Food and Drug Administration (FDA). While the regulation can get complicated, it's these organizations' responsibility to ensure breweries are in compliance with the laws in place to protect consumers so they end up with a winners like Stone Brewing's Full Circle Pale Ale, Declaration Brewing Company's Centurion Pilsner, and Lost Grove Brewing's City Raw Kolsch instead of true poo brews.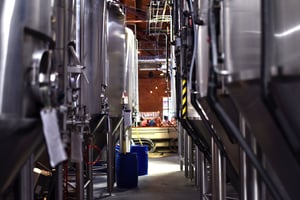 These poo-to-brew projects have made headlines and thrust the conversation about reclaimed water and wastewater into the public eye. Many projects have been collaborative efforts between local utility companies or trade organizations and breweries that champion sustainability. Water Environment Federation (WEF) has supported some of these efforts through its Sustainable Beer Smackdown, which ran annually at WEFTEC from 2015-17. WEF also recognizes the Pure Water Brewing Alliance as a thought leader within the brewing and water reclamation movement. The Alliance unites "utilities, brewers, engineering firms, and technology companies involved in brewing beer with recycled water" from around the country. While its product, Pure Water Brew is made from 100% pure recycled water, other breweries are finding still other ways to capitalize on this reused resource.
Nationwide, breweries are successfully connecting with their market by highlighting sustainability efforts. Recycled water can still be incorporated by breweries without having it directly in the end drink — breweries can recycle their own water back through the brewing process. For example, Yards Brewing Company in Philadelphia reportedly collects and reuses about 2 million gallons of water every year. In Paso Robles, California, Firestone Beer reuses wort, the liquid that gets fermented to turn it into beer, when it isn't strong enough to make it to the next step. The brewery explains that it's able to "save two to three thousand gallons of water per turn." Firestone has taken their sustainability efforts to the next level, "recovering condensate from steam… to apply that energy toward heating other kettles" and in 2015 installed its own wastewater treatment facility. This dedication to recycling water is extreme and goes to show the level of commitment some breweries are willing to make when it comes to water conservation and resourcefulness.
As someone who works in water and wastewater, don't forget the role you play within recycled wastewater efforts and sustainability. Consider identifying ways your operation can contribute to local businesses that are looking to incorporate reclaimed water into their production methods. Whether it's a brewery or a local agricultural organization, there are many opportunities to contribute to recycling efforts. Additionally, you can also increase efficiency within your water or wastewater system. With powerful software you can take your sewer data and easily analyze your entire system, comprehensively understand the severity of defects, and make an action plan. Let WinCan assist you in your sewer inspection software needs. So, crack open a cold one and request a free demo of WinCan VX now: