WinCan Web is the leading online platform for sewer teams to collaborate remotely. It includes powerful tools for managing, sharing and analyzing sewer inspection data, and for supporting asset management and maintenance planning across a wastewater collection system.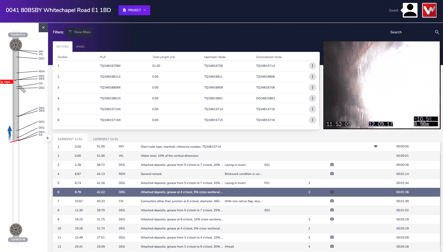 As part of its commitment to providing customers with an intuitive and productivity-oriented user experience, the WinCan team continually prioritizes customer feedback and recommendations when making updates to its software. The newest version of WinCan Web incorporates several new and enhanced features to optimize the cloud-based platform.


A redesigned interface improves speed, simplicity and navigation.
Users now have the ability to view map data from their mobile devices. Previously, maps could only be viewed on a larger device, like a tablet or computer.
A new pipe graphic enhances data visualization, allowing customers to manually navigate up and down the pipe. Selecting a position on the pipe with the interactive slider automatically cues the associated observations and video.
Customers can now design their own interface theme with logos and colors to match their company or organization.
Lastly, with the new import button users can drag and drop projects into WinCan Web for automatic upload of data conforming to various standards, including NASSCO and Isybau.
WinCan Web makes it easy to upload sewer inspection data, including images, video and maps, and share it quickly and securely to any browser-enabled device. That data can be accessed by the entire team for improved project management and communication.
Request a free demo of WinCan Web today: