The new VC500 control for the Envirosight's ROVVER X and iPEK's ROVION crawler runs embedded WinCan software. With it, you can complete inspection reports and transfer the data by WiFi, USB drive or Ethernet. Here we present several options for transferring inspection data.
Traditional Workflow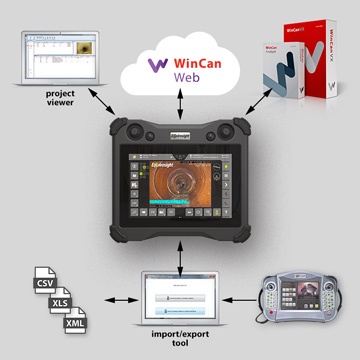 A project is simply a collection of inspections. When you complete a project from scratch on the VC500, you can save it to a USB stick with free viewing software. Anyone with the USB stick can then view your inspection reports, photos and videos on a Windows computer1.
Alternatively, a project created on the VC500 can be uploaded to WinCan Web, the new cloud platform for sewer assessment data. From there, you can share the project simply by emailing a secure link. No USB stick, DVD or external hard drive is required, and the client can review and download data using any device with a browser.

Data Exchange via WinCan VX
With WinCan VX software you can create a project, pre-populate the inspection headers with available asset data and then transfer the package to the VC500. This workflow reduces manual data entry, which saves time and reduces errors. (IMPORTANT: Choose the "SQLite" database type when creating a project to ensure it's compatible with the VC500.)
A project can be transferred from WinCan VX to the VC500 using WinCan Web or a USB stick. Once the project's inspections are completed, it can be transferred from the VC500 back to WinCan VX the same way. Office personnel can then check data quality and create final reports. Some important things to note:
Legacy VC200 data

can

be imported into WinCan VX directly.
Legacy VC200 data can be imported into the VC500 using the Import/Export tool.
Data from the VC500 and WinCan VX

cannot

be imported into WinCan V8.
Data Exchange Using the Import/Export Tool
If you use third-party software, you can transfer inspection data to and from the VC500 using the Import/Export tool. (Check your specific software for compatibility3.) This tool works independently of WinCan VX and runs on any Windows PC2. The data converter tool supports standard inspection data formats, including PACP, various Isybau formats, WRc and others.
[1] Minimum Windows 7 or higher, .NET Framework 4.6.2
[2] Prerequisites: Visual redistributable 2017 (x86), .NET Framework 4.6.2, Windows 7 or higher, Installation as administrator and write access to the output folders.
[3] It is not possible to import VC500 data into WinCan v8 using this method or any other.