With the latest update to Version 12, WinCan VX proves yet again to be the most innovative and well-supported sewer inspection software on the market. From intuitive adjustments in UI to top-level integration pathways, V12 brings added convenience and streamlined functionality to core sewer inspection workflows in WinCan.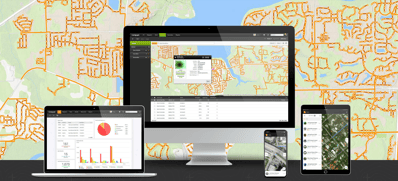 In addition to various changes to UI, import/export and module functions, the latest version of WinCan VX also streamlines integration with Cartegraph asset management solutions, establishing yet another way for municipalities to optimize inspection workflows. Cartegraph asset management solution helps municipalities keep track of indoor, outdoor, above ground and below ground assets. As an industry leader in water and wastewater asset management, Cartegraph extends WinCan flexibility by giving users even more ways to connect with software partners and serve the wastewater needs of communities around the world.
Furthermore, WinCan VX version 12 paves the way for connectivity with enterprise solutions in WinCan Web, giving users the ability to quickly access, edit, review and coordinate WinCan projects with ease. With WinCan VX, operators and engineers have the freedom to create, collect and analyze data with cloud-based inspection solutions that bridge the gap between an on-premise server and a job site.
A complete list of changes coming to WinCan VX in version 12:
General Changes
Template extended conditions created
Mass planning options added for method groups
Invoice document creation made a separate process
Implemented additional Scoring options (EN13508_ENGLISH-2021)
Improvements to project summary report
Video player integration for 360 videos
New option in mass planning tool to delete job position from the project
Clean installation option added to the installer
Added 3rd party license info to About tool
Changed background Map and Draw provider to Bing
Uninstall behavior modified to protect 3rd party installations
Distance taken from a time-distance file where possible
New OSD device added JT – Kanda
Various bug fixes throughout
UI Changes
Option to add multiple observation codes at the same distance
Added new columns in the rehab reports
Inspection tool internal improvements moved
Data Exchange wizard refreshed
Printing controls refreshed
Hyperlinks to the Light Viewer source disk directory
Option to turn off video warnings
New button for "Approved from Engineer"
Highlight the active filter with a color
Import/Export Changes
DanDas 2.6/2.5 export various corrections
Generate node parts while importing PACP project
Integration of DanDas 2.4.6 export
New option to export single XML files (DanDas Export)
Visit the download page at WinCan.com to learn how WinCan VX's V12 update can support you team: