As technology continues to shoulder more and more of our inspection workloads, it's easy to forget that having enough qualified people to operate equipment, code and convert data, manage deliverables and analyze sewer infrastructure is just as important as having the software and equipment itself. But even with the right team, workloads can spike when you least expect it, causing your team to take on more work and stress, with the ensuing risk of delays and mistakes. AI-enabled data services allow your team to leverage the power and efficiency of AI, hands-on verification from data professionals, and fully integrated cloud hosting without breaking the bank or your team's backs.
Offloading in a Data-driven Industry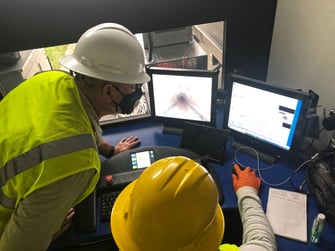 For municipalities that are used to working with contractors for sewer maintenance, outsourcing inspection projects is nothing new. Sewer inspection teams are too often bogged down by data management and analysis tasks. These require uniquely trained personnel to transfer data from one inspection software to another, set up GIS integrations for peak efficiency and accurately code inspection footage to industry standards. Some municipalities simply can't afford a long-term solution, while others need help dealing with a short-term influx of projects. But when data management and analysis can be outsourced to trusted sewer professionals with the proper experience and AI-supported tools, that's when inspection teams start to see results.
In the case of WinCan's Sewermatics, data services work as an extension of your team, completing many of the same tasks and committing the same attention to detail your operators and engineers would invest. Whether you outsource one data conversion project or a consistent volume of defect coding work, the results of a single job can ripple through your workflow, keeping your field team on pace and your data clean and accessible.
AI-enabled Defect Coding
Within the last few years, AI has taken a more prominent position in the wastewater industry. Companies have started imagining a more efficient workflow for sewer inspection teams using the power of machine vision to quickly identify and classify defects. Now, AI-enabled defect coding has become one of the most followed and anticipated trends in the industry, putting a new focus on cost-efficiency and fast-paced inspection workflows. But AI-enabled defect coding also offers a means of quality assurance that human eyes simply can't provide.
Because AI machine vision has the ability to scrutinize every pixel of inspection footage, it identifies more potential defects faster than the naked eye. But WinCan's Sewermatics coding takes it a step further by pairing AI with a NASSCO-trained coding team to review and confirm the AI's coding performance, providing extra assurance that everything in the inspection footage is caught.
For some, the goal is for AI to eventually support inspection teams in the field, providing immediate, accurate coding right from the back of a truck. And while such technology may be on the horizon, wastewater is embracing the trend of AI-supported defect coding services as a welcome alternative and supplement to traditional methods.
Adopting Cloud Hosting & Remote Collaboration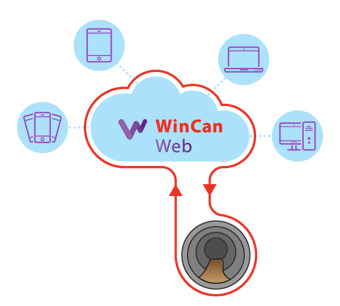 Wastewater has become a data-centric industry, which means accessibility of inspection data is essential to an effective workflow. Remote collaboration trends have more operators and engineers working together from a distance, but for many municipalities, keeping up with the trend is as easy as gaining access to the cloud and a high-speed internet connection.
When it comes to sewer inspection software, complete cloud hosting is the solution to not only remote collaboration, but also data access, security and version control. For example, users can transfer projects from WinCan VX to WinCan Web without fear of overwriting or losing track of valuable data or inspection media. That way, project data is safe from potential server crashes and accessible anytime, from anywhere, on any device via the cloud. And while backups keep your data intact in the event of a crash or user error, integrated version control helps you streamline redundancy so you don't have to stress about sifting through multiple versions of the same project.
Beyond the perks of cloud-based storage and security, remote collaboration means operators can focus their time and energy on collecting data, sending it to engineers for coding and then moving on to the next job site. But let's face it, not every team has the personnel necessary to keep up with such a workflow. Alternatively, third-party data services give inspection teams the opportunity to collect inspection footage and send it directly through the cloud to WinCan's AI-supported coding team for fast, accurate defect coding.
Data services have grown in popularity in the wastewater industry, and with the support of AI, municipalities can get work done more quickly and accurately than ever before. We live in a data-centric world, and municipalities continue to look for new opportunities to do more with their data without breaking the bank or shouldering more work than they can handle.
Learn more about WinCan's Sewermatics data services by scheduling a consultation: