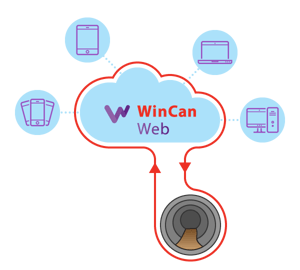 Sewer workers — and project managers, construction crews, and public works teams — spend much of their time on the job site. And the location and project can vary wildly day to day. In a single week a crew may be asked to deploy equipment into a downtown collection system, through lines in a new suburban development, or down an access point in an off-road easement.
When crews spend so much time on the road, they need easy ways to communicate and relay data to others. Cloud-based WinCan Web allows users to upload up-to-the-moment inspection reports, data, images and video and share to any internet-connected device, such as a smartphone, tablet or computer, via a browser or app. This increased level of connectivity can transform the way on-the-road crews work and communicate with managers, engineers, rehab teams and clients, many of whom may also be away from the office.
Immediate Turnaround for Inspection Data
Contractors, and the utility operators who work with them, are often expected to deliver prompt updates and speedy turnaround. Being able to send inspection video and custom reports the instant they are complete, and from anywhere with an internet signal, means fewer delays and more informed collaboration.
CCTV operator, Dan McKnight, of Culy Contracting, uses WinCan Web to securely share videos, images and any other data with his customers immediately, and keep them updated on progress. "It works so much nicer for the customer," he says. "And on the technical side, instead of just calling them and saying how much you got done, you can actually show them."
Moreover, information stored and shared on the cloud is more secure than data kept in house and distributed by thumb drive, disc or hard copy. Cloud-based asset management solutions are more reliable because data is replicated across multiple servers, ensuring maximum uptime and failure redundancy. So even if your office is closed or offline, your data is always accessible to those who need it most — whenever and wherever they may be.
Schedule a free demo of WinCan Web to learn more: