Updated offerings on WinCan's cloud platform bring new functionality to inspection teams, with enhanced editing capabilities and on-the-go project creation.
WinCan Web Flex is the latest addition to WinCan's suite of sewer solutions, bringing new features to the WinCan Web cloud platform. While the base version of WinCan Web was designed for project management and communication tasks, Web Flex takes the platform's functionality to a new level with enhanced creation and editing features. With Web Flex, users have the ability to create projects, drop media directly into the web, and then immediately log observations from any internet-enabled device. Users can even score or rescore a project or print and send detailed reports. These changes open up new workflows for sewer inspection teams, allowing them to prioritize speed and efficiency.
Flexible Management of Inspection Media
With the new media bucket in WinCan Web Flex, users can drag and drop inspection footage directly into the cloud. Operators can bring multiple videos into the media bucket for coding back at the office. Likewise, Web Flex allows for on-site inspection workflows, with users creating new projects or observations as they review footage right from the truck. The media bucket can also be linked to Sewermatics' automated, AI-powered defect coding service, creating a seamless transition from hands-on inspection to an automated workflow.
Enhanced Cloud-Based Editing Capabilities
Just like WinCan's desktop solution, WinCan Web Flex gives users the flexibility to create and edit inspection data when, where and how they want. By creating observations directly on a tablet or smartphone, operators can work more efficiently. They can collect, inspect and code one section at a time; upload inspection footage into the media bucket for coders back at the office; or drop a full work order's worth of media into the bucket for a complete project assessment.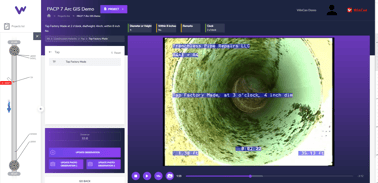 Scoring Features Support More Robust, Accurate Deliverables
WinCan Web Flex introduces scoring and report creation capabilities to WinCan Web. Users can easily run reports with essential data, photos and even drawings. Additionally, the scoring and rescoring feature in Web Flex allows operators to code pipe conditions and include the details of those scores in a printed report. Not only does this create more comprehensive data, but it helps to ensure deliverables are in-depth and provide actionable insights to the end user.
Learn how Web Flex can enhance your cloud-based inspection and asset management experience by requesting a demo today.