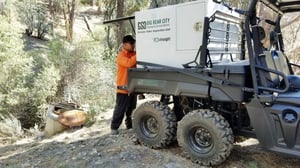 Every wastewater system is unique: Age, geography, pipe materials, rehab methods, and climate all shape infrastructure over time. But even in the diverse landscape of American utilities, some systems stand out.
Big Bear, Calif., is one of these outliers. The sewer department for this unincorporated community in San Bernardino County supports just a portion of the local wastewater service, but its work frequently takes it off the beaten path. Its residents live in the mountains, and the small wastewater management team spends its days venturing along mountain roads and through unlikely easements. One of its CCTV systems operates out of a Polaris UTV that can drive into the forest, where there are no trails — let alone roads — to support regular maintenance and inspection. With seven pump stations in the district, many constituents rely on gravity to ensure steady drainage.
A unique approach
Big Bear City Community Services District Sewer Department has also taken a unique approach to managing its wastewater system. While many communities across the United States spent the last few decades operating with policies of react and repair, the department has always prioritized preventative maintenance. After several team veterans retired seven years ago, the new leadership seized the opportunity to modernize and upgrade. Explained Andy Keller, sewer department foreman, "We've moved up and are always looking for new tech and things that can make our operators more productive. We've made a lot of changes from the old school ways in the last few years."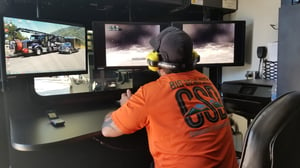 A key piece of this evolution has been deploying WinCan to support the system's wastewater inspection process and records-keeping. Though they'd operated a competitor's software in the past, Keller and his team were unhappy with the results. They needed a solution that could integrate with their growing Esri GIS implementation while being user-friendly for their operators. Reporting was a hassle, and data had to be imported into the asset management system before it could be manipulated. The Sewer Department began searching for alternatives. A pipeline inspection contractor working for the local gas company, which had been running lateral inspections before and after boring, recommended WinCan. Upon learning more about the software — including its compatibility across multiple brands of inspection hardware — Big Bear knew it had its answer.
Long-term scalability
The on-site presence of WinCan's experts ensured a smooth WinCan Web deployment. "We have some other cloud-based tech at the agency, and I know that's the way things are going," said Keller. The previous system hadn't allowed the department to save complete video footage of all inspections, as it did not have the internal IT capabilities to manage that much data. The scalability of the cloud ensures WinCan Web has all the storage Big Bear could want for current and future recording, and at a much lower cost than maintaining the data in house would require. Crews regularly upload their data into the system, and Keller looks forward to completely connecting all hardware in the future. "Just the storage was a big plus," he explained. "But it's great to have a searchable database wherever I am. I can access WinCan Web from my smartphone or tablet while in the field. I can look things over without having to go back to the office." Other stakeholders — those within the services district and members of the community — also appreciate the convenience. When handling a call, staff can quickly pull up observation information and respond to residents with the information that they need, even sharing videos of laterals with homeowners. The software has improved communication and is helping create a more informed community.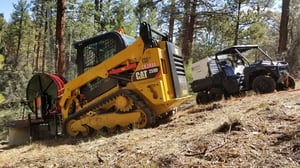 WinCan's GIS integration will also have a long-term impact on Big Bear's operations. "The mapping database sync was pretty seamless…. We were worried it would be an issue, but it was an easy transition," noted Keller. But storing Big Bear's existing files was only a small part of the task. "We didn't have a database that was transferable to GIS for laterals. Many were old records from the '70s. Some location notes referenced things like abandoned cars or old trees that aren't there now, or won't be in the future."
Much of the crew's work combines inspecting and mapping. "We do mainlines and laterals at the same time. We shoot a main, and record the whole thing. On the way back, we do every lateral. This is our daily routine." And WinCan — with its scalable storage and effortless GIS integration — makes that routine easy.
Because WinCan Web is on the cloud, Big Bear has the flexibility to scale its services, storage and costs as its needs evolve. This adaptability makes all the difference for a small department looking to implement big ideas. Big Bear expects to continue to expand its mapping and adopt new technologies as they enter the market. Currently it is integrating its Esri ArcGIS Online web maps with WinCan Web — keeping CCTV data accessible regardless of platform. Its landscape and needs are unique, and the department itself is not afraid to reach beyond its comfort zone. They've found that investing in quality solutions pays off in the long run.
Learn more about WinCan Web or request a free demo here.