Fast, simple work order creation is a key component of efficient sewer inspection workflows. WinCan makes it easy to create work orders on the fly from anywhere with our cloud-based inspection platform.
From maps and dashboards to a Kanban-style inspection manager, WinCan Enterprise is designed to be a Swiss Army knife of work order management tools. It also gives users several pathways for building and uploading work orders, keeping office-based workflows organized and efficient.
Map-based Work Order Tools
The easiest way to build a work order directly in Enterprise is via the Job Management map. You'll find it in the sidebar under the Map tab on the left-hand side of the Enterprise interface. With a few quick clicks, you can select one or more lines to create a project that appears right in your Inspection Manager.
Start by opening the Job Management map and familiarize yourself with the tool bar on the right-hand side. From top to bottom, you'll find interactive layer toggles, a selection tool, and various view settings that allow you to adjust the map to meet your needs. The scroll wheel (or plus and minus buttons in the upper left corner) can be used to zoom in and out of different areas to identify areas of interest, and then you can use the selection tool to grab the sections and nodes necessary for your work order.
Pro Tip: If you're ever unsure about which icon represents which tool, just hover your cursor over an icon to see the details for that tool.
Clicking the selection tool (shaped like a pointing finger) allows you to choose from a variety of shape selection tools. With the selection tool, you can easily select and deselect lines and nodes by holding CTRL to select or ALT to deselect. Click once to start making the selection and click again to finish selecting. The selected assets will change color on the map and appear in a new sidebar on the left-hand side of the map.
From here, make sure to click the toggles in the sidebar to ensure all necessary assets are included, and then, click the Create Work Order button to send it to the To-Do column of your Inspection Manager.
Intuitive Project Creation
If your team prefers to create work orders based on a pre-determined maintenance schedule, it may be easier for you to build them manually in the cloud. From WinCan's cloud-based inspection environment (Flex), you'll find a New Project button at the top of your Project List. Clicking this button gives you the ability to import, merge and restore, but its primary use is to create a new project, which can be selected from the New Project menu.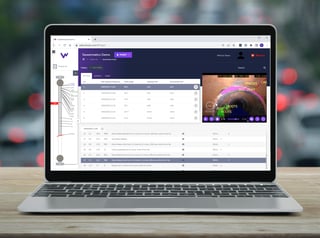 A sidebar will appear that gives you a handful of options, including project name, country, language and inspection standard. Once created, you'll be able to add sections and corresponding details that appear in your WinCan Enterprise Inspection Manager in the form of Kanban cards. Then, you're free to assign them to operators and move them into the In-Progress column with all the necessary inspection details in tow.
Direct Upload to the Cloud
One of the easiest methods to get a work order into Enterprise is to upload a project that's already been built in WinCan VX. With your desktop license connected to the cloud via the Enterprise tab, you can manage work order uploads, synchronize projects with updated data and upload media directly to WinCan Enterprise.
WinCan prioritizes flexibility so sewer inspection teams can focus on creating efficiency in their unique workflows. The ability to quickly create, build and upload work orders in Enterprise is just one example of how WinCan is supporting wastewater teams worldwide. Get in touch with a WinCan professional to learn more.