Sewer inspection reports allow wastewater teams to review and share vital information about a system's condition, functionality, risks and maintenance plan. They highlight data from sections, inspections, observations or ratings, and they serve as records that can be referenced for future maintenance, planning and trends. And the data they contain ensures more informed decisions are made regarding rehabilitation and inspection.
WinCan VX users can customize reports to help them highlight the most important data. In the wastewater industry, different people need different metrics: A rehab team, for example, may want different information than a city manager does. Custom reporting in WinCan VX makes it easy to deliver the most impactful, relevant data at any point in the inspection workflow
Getting to Know WinCan's Reporting Tools
WinCan's primary reporting tools are designed to output data the way you want it. The Printing Panel gives users access to easy-to-read, media-intensive reports, while the Report Generator allows for a more detailed, data-focused spreadsheet.
The Printing Panel provides better visualization of data and a more robust understanding of sewer systems. Users can easily pull images of defects into reports to illustrate pipe condition and showcase map views of the surrounding area. Furthermore, WinCan also integrates a pipe graph directly into these reports, showing the proximity of observations, direction of flow and relevant manhole numbers.
Core Reporting Accessible Through Printing Panel
WinCan Reports: Standard reporting method for WinCan VX projects
WinCan Analyst Reports: Primarily used for reporting on data distribution and inspection status
Rehab Reports: Review per-object data for rehabilitation projects, including summary and schedule of services
On the other hand, the Report Generator allows users to create an Excel spreadsheet with various fields pulled from sections, inspections, observations or ratings. Users can adjust sorting settings as well as the maximum number of PDF columns and cell formatting.
Furthermore, users can print reports directly from modules like WinCan Maps and WinCan Laser Scan. Gather essential ovality and capacity reports to aid in rehabilitation planning or provide an overview of an inspection site via annotated satellite maps.
Building Custom Reports in WinCan VX
The Printing Panel is where users do the majority of their reporting. Visit the Printing tab and click Printing Panel to pull up the panel. On the left side of the panel, you'll find options for creating standard WinCan Reports, Analyst Reports and Rehab Reports. These reveal different checkboxes related to each report, allowing you to choose which information is necessary for a particular report. Most commonly, users will opt for the default WinCan Report, which gives you a cover page, table of contents, and project media based on the selected project. From there, toggle specific data types under the umbrella of Sections, Nodes and Laterals. The output panel along the bottom of the window provides several options for filtering data and adjusting the final report display, including title and header info. Finally, hit the Print button to compile and review your report.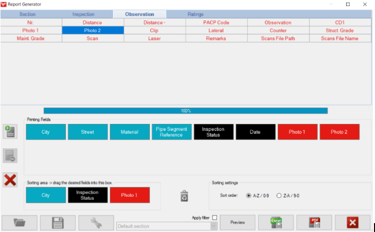 WinCan's Report Generator opens the door to a variety of data spreadsheets, allowing users to hone in on specific areas of an inspection. Click the Printing tab in the toolbar and choose Report Generator to get started. You'll be prompted by a window that allows you to choose the specific lines of data you need, organizing any number of data types. These data types can come from a section, inspection, observation or rating, making it easy to pull information from different data sets to mix and match based on the needs of a specific project. Simply click on a data type to add it to the spreadsheet, then drag and drop the most important data types into the sorting panel to organize them. From there, click the wrench to ensure the settings are correctly adjusted. Finally, export as an Excel file or a PDF.
Learn more about customizable reporting tools with a WinCan VX demo: