A sewer rehabilitation plan identifies the work needed on a sewer system and outlines a strategy for how the work is to be completed. While putting a plan together can be time-consuming, it offers a great return on investment, ultimately saving a department time and resources.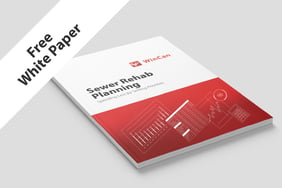 A sewer rehab plan can guide a department toward completing projects based on priority level, and with the most effective rehab method. More strategic planning can help a department make better financial decisions and avoid costly emergency work. It can also be used to help advocate for the funds a department needs — making the case financially and operationally for decision-makers.
With a sewer rehab plan, municipalities can minimize the risk of sewer failures, including backups, overflows and collapses. By focusing on preventing such failures rather than simply reacting to them, the high costs of emergency response and remediation can be avoided, and the continuity of essential public services can be maintained at the highest level.
Developing a plan starts with gathering data about a wastewater system, from documenting its construction and maintenance history to inspecting for signs of deterioration. Once enough data is gathered, a team can begin setting priorities and outlining a plan to complete needed work, ensuring the system is well-maintained and set up for long-term resilience.
Download WinCan's free white paper to learn how to start creating a sewer rehab plan for your own department. This paper guides you step-by-step through the process, and introduces you to WinCan's Rehab Planning Module, which can be used to automatically generate rehab strategies and plans based on parameters you designate.