Flooding is a concern in almost every part of the world. And in the United States specifically, flooding has caused more death and destruction than any other kind of natural disaster, according to National Geographic.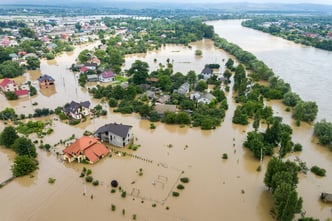 Floods pose a threat to people, homes and buildings, and to civil infrastructure, including wastewater systems.
Flooding Consequences to Wastewater Systems
When water and debris overwhelm pipes, it can cause them to overflow — spilling sewage into the community and threatening the health of both humans and wildlife. And the excess water and debris inside a pipe may also put enough stress on it to crack or break the line, resulting in costly repairs.
Power outages are another common consequence of flooding, and when a pump station loses power, it can lead to backups into ratepayers' property and other upstream openings. Floods also put wastewater professionals at higher risk as they work to resolve the issues and get these essential systems back online as quickly as possible.
Preparing Wastewater Systems
While severe weather events and their ramifications can't always be predicted perfectly, there are steps that can be taken to better prepare wastewater systems for potential disasters and disruptions.
Wastewater departments should be flood resilient. In other words, they should withstand flooding with minimal damage and be able to recover rapidly from any service disruptions. To achieve this, municipalities can work proactively to address weak spots rather than reactively when disaster strikes.
The EPA suggests a 4-step process to approaching flood resilience: understanding the threat, identifying vulnerable assets and determining consequences, identifying and evaluating mitigation measures, and developing a plan to implement the mitigation measures.
Establishing Resilience
Building out a mitigation plan and developing greater resilience requires wastewater personnel to understand every part of their system and its condition. This means sticking to an inspection schedule, identifying areas that may be more susceptible to damage and then prioritizing repairs based on the risk level.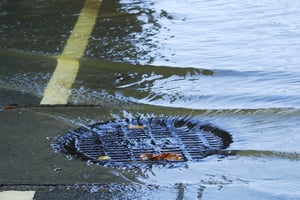 WinCan seamlessly integrates with a variety of asset management platforms, including Esri's ArcGIS, which can be used to create a comprehensive map of any wastewater system, combined with inspection data for a thorough visual representation of systemwide condition. This visual allows wastewater operators to easily identify cluster areas on the map in need of rehab or repairs that are more likely to fail from a flood or other natural disaster, and then begin formulating a plan to address them proactively. The more a wastewater department knows about its system, the better it can plan ahead.
"A visual map built out with inspection data from the operator allows wastewater teams to better understand the condition of their system as a whole and more accurately pinpoint high-need areas," says Mike Russin, general manager of WinCan in the Americas. "That team is then able to plan maintenance and rehabilitation more intentionally — prioritizing areas at greater risk or with more severe consequences if disrupted, addressing the issues and, in turn, building a more resilient system, should a disaster occur."
---
Click here for more information on the EPA's flood resilience guide.
To learn more about WinCan VX and its integrations, including Esri ArcGIS, schedule a free demo today: