In July 2022, WinCan was officially recognized as a part of the ArcGIS System Ready Specialty, a designation for Esri partners that consistently adopt and integrate new ArcGIS software releases into their solutions, services, or content. In many ways, this signifies the next stage in our relationship with Esri as software partners, and reinforces our continued promise of providing the industry with efficient sewer inspection solutions that support GIS workflows for both field and office users.

As a partner in the ArcGIS System Ready Specialty, WinCan is recognized for its expertise with Esri technology. It acknowledges our commitment to staying current and provides access to new resources to help us deliver the most complete GIS solution available for wastewater teams. One way WinCan's developers are doing this is by exploring additional specialty classifications with Esri, such as Geo-Enabled Specialties, Technology Specialties and Industry Specialties.
About WinCan's Esri Integration
As a Silver Tier Esri partner since 2017, the WinCan team knows the importance of seamless connectivity between sewer inspection data and mapping platforms. Merging essential sewer datasets with broader asset management gives utilities a faster approach to GIS tasks, a better understanding of risks, and high-level insights on infrastructure health. This mindset has long been at the heart of our software innovation and integration development, and it has inspired a dedication to Esri's mapping solutions that is taking shape in new ways.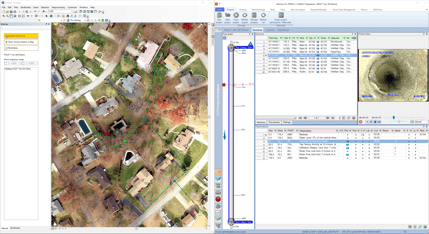 Esri delivers an unmatched GIS experience for wastewater utilities, enabling data-driven
management of sewer assets. Paired with WinCan, Esri's ArcGIS can help engineers and operators identify the proximity of sewer pipes to surface features, pinpoint manhole locations, and quickly track down, view and edit section data with the click of a button. Using a bidirectional integration, users can both pre-populate WinCan projects with data from ArcGIS and bring wastewater datasets into ArcGIS for analysis, making it easy to navigate both platforms without changing workflows. Now, with WinCan's new classification as an ArcGIS System Ready partner, our team is even better equipped to deliver integration solutions that support mapping workflows at every level of the inspection process.
Learn how WinCan and Esri can work together to support your team's GIS workflows by scheduling a free demo of our integration: