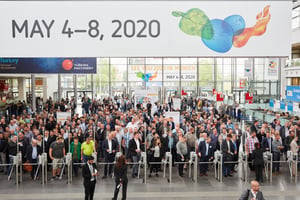 Every two years, IFAT—the world's largest trade show for water, sewer and waste—descends on Munich, Germany for five days. The show draws more than 141,000 attendees and 3,300 exhibitors from 58 countries. This year, WinCan moved to Hall C3, where it exhibited prominently among manufacturers dedicated to the construction, maintenance and rehabilitation of water supply and sewerage systems. WinCan's latest products and features were highlighted at this year's event.
On the Cloud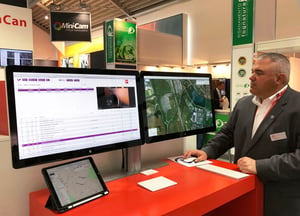 Central to WinCan's presence was WinCan Web, the cloud-based platform that lets infrastructure professionals share sewer inspections online, securely and instantly, using any browser-enabled device. WinCan Web has matured substantially over the last few years; since the last show it has acquired PACP 7 certification and begun offering full support for GIS mapping, as well as the ability to work with data from video nozzles, zoom survey cameras and manhole inspection systems.
WinCan also showcased WinCan Embedded, a firmware solution that allows inspection equipment manufacturers to deploy full inspection reporting capability as a built-in product feature. Since the last IFAT show, companies like iPEK, Envirosight, Mini-Cam and Scanprobe have all incorporated WinCan Embedded into their products, and many support a direct wireless connection to WinCan Web.
Another Look at Manholes
In addition, WinCan displayed CleverScan, the new fully automated manhole inspection system. Although CleverScan is designed and manufactured by KEPSO, WinCan created the software that processes camera data into full image scans and combines them with 3D point cloud data to create a fully-textured 3D model of the manhole interior. WinCan is now working to add defect auto-recognition to the software. Compared to other manhole inspection systems on the market, CleverScan costs less, offers enhanced portability, and delivers greater productivity with rates of up to 50 manholes/day.
Rehab Strategy
In keeping with the broadening focus on rehab technologies, the WinCan booth also featured WinCan's new Rehab Planning Module. This tool helps municipalities develop rehab strategies that deliver a greater return-on-investment. The user simply enters unit pricing for regionally available rehab services; the software then evaluates these options against existing defects, taking into account their type, severity and location density. "With WinCan RPM, we're helping cities apply complex algorithms to system-wide data," says Mike Russin, Business Manager for WinCan in North and South America, who was on hand for the show. "The result is rehab planning that's optimized for maximum impact."
Looking Ahead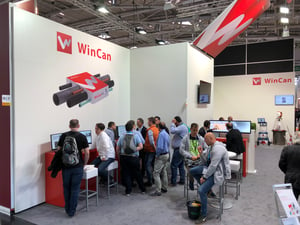 Other solutions on display included WinCan's 3DGS module, which plots XYZ data gathered by camera systems equipped with geospatial probes, and Photo Assistant, a suite of tools that allow users to measure sewer defects using adjustable image overlays. WinCan also unveiled support for additional catalogs and languages on its VX platform.
IFAT returns to Munich in 2020. Given the pace of development at WinCan, visitors to that next show can again expect WinCan to debut solutions and products at the forefront of sewer inspection technology.