In 2018, WinCan partnered with Lucity to bring even more flexibility to the WinCan platform and enhance the asset management capabilities of wastewater professionals around the world. Lucity had been an industry leader in wastewater asset management for nearly 30 years when they partnered with WinCan. Just a year later, they were acquired by CentralSquare, a move that would build on that value with even more robust offerings.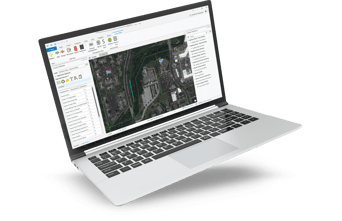 CentralSquare Enterprise Asset Management (Powered by Lucity) is designed to meet the asset and maintenance management needs of all municipalities, with options for every sector from public safety to healthcare. Not only do they provide solutions for a wealth of different industries, but the depth of tracking available with CentralSquare's asset management tools is enough to satisfy the needs of even the largest municipalities. When paired with WinCan, you're equipped with an unstoppable inspection solution with versatility to spare.
Building a Partnership
Both WinCan and CentralSquare EAM have a rich history in the wastewater industry, working to assist municipalities in managing and maintaining sewer infrastructure. As natural partners in the industry, the two have developed a streamlined integration that makes transferring data from one platform to the other quick and efficient. But the benefits of this partnership extend to users in other ways, too.
With WinCan's integration supporting enhanced inspection workflows, CentralSquare EAM users gain the industry-leading tools for wastewater professionals, while WinCan users benefit from CentralSquare's proactive monitoring capabilities and customer-centric interface. Together, they provide one of the most flexible inspection solutions in the industry.
"The seamless integration between CentralSquare EAM and WinCan makes it easy to share data captured in the field for analysis in the asset management system," says Andrew Blue, senior product manager at CentralSquare. "Not only does this increase visibility and accountability, it also eliminates manual entry of data which gives more time for analysis."
How WinCan Integrates With CentralSquare EAM
WinCan VX users can easily import work orders from CentralSquare EAM at any time using the Lucity Import button under the Data Exchange tab. With a single click, you can see your pipe sections for a given work order populate directly into VX. From there, you'll have the opportunity to fill in the necessary information to ensure your data is NASSCO certified. Then you're ready to start your inspection, logging defects and pulling reference photos from CCTV footage.
Once the inspection is complete and all defects are coded, bringing observations into CentralSquare EAM requires just one click of the Lucity Export button. WinCan will automatically transfer all of your data back to your CentralSquare EAM account, where you can see new inspection data populate under the CCTV Assessment tab. Everything from pipe material to pipe segment reference number is now available within CentralSquare EAM, and your inspection media is right there whenever you need to reference it.
With such complete and simple transfer of data, municipalities not only have the ability to track inventory and manage maintenance work orders, but they can also conduct thorough analysis of infrastructure. In addition to their joint integration, both WinCan and CentralSquare are integrated with Esri's ArcGIS, allowing users to quickly refer to value data via high-resolution satellite or heat maps at any time. No matter where a workflow begins, in-depth visualization of data is always an option.
Over the past few years, WinCan and CentralSquare EAM have fostered a relationship that is changing the way users of both platforms perform their asset management and inspection tasks. Seamless integration between these two platforms has put a greater emphasis on proactive workflows, and there is more demand than ever for flexible solutions that meet the unique needs of municipalities of every size.
Learn more about WinCan's valuable integration partners with a free demo of WinCan VX: