Möchten Sie diesen Artikel auf Deutsch lesen? Dann klicken Sie hier.
Since 2012, the pipe cleaning company Point Orange Sewer Cleaning GmbH has been offering drain, pipe & sewer cleaning service to its community of Bispingen, Germany. Their services include property drainage, clog removal, sewer cleaning, sewer milling, sewer location, sewer and pipe rehabilitation, and also CCTV inspection.
For the past two years, the company has been using WinCan software for sewer maintenance, and in cooperation with a Vivax Metrotech locator, the Point Orange team has been able to both expedite and streamline workflows.
Prioritizing Accurate Measurements in Bispingen
For the municipality of Bispingen, Point Orange has made the surveying of the sewer courses its main task.
Although the State Office for Geoinformation and Land Surveying of Lower Saxony (LGLN) provides drawings of houses and streets, many of the sewer routes are missing. "Since the municipality of Bispingen does not have any digital drawings, every single manhole, beginning and end node, and every sink box is measured," says Managing Director Thorsten Jung.
Here, too, the pipe cleaning company pays attention to precision. Point Orange achieves maximum accuracy with manual 3D tracking. "We are very accurate there with a maximum deviation of 10cm," says Jung. The results of these measurements are implemented into sewer plans that are available to the district and entered back into the GIS (the municipality's WinCan software).
Thanks to WinCan's 3D visualization technology, a virtual model of the asset can also be created from these measurements. With the help of this 3D model, underground maintenance or rehab such as excavations and drillings can be planned via WinCan Map.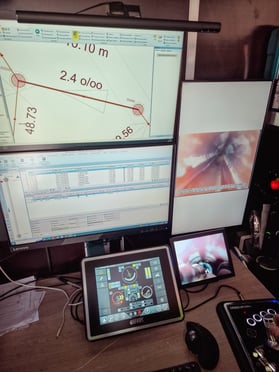 For the lateral inspection, the bends toward the transition manhole are measured with the locator, which enables the three-point survey to work more efficiently. Thanks to the walk-back function, the end point can be verified easily. For Jung, this means "less effort, and at the same time it is faster and more effective for the municipality." With this streamlined workflow, inspection results are more accurate than they would be if completed back at the engineering office.
WinCan's interface can import measured points from the locator. Once that data is transferred to WinCan, it's accessible to the team through the cloud and integrated with broader GIS and asset management databases.
Simplicity and Accuracy in Interaction
With WinCan, the Point Orange team has been able to gather deep insight into sewer system condition and potential maintenance trends.
In particular, Jung says "WinCan Map is standard for us," and it has proven instrumental in creating maintenance plans with crews.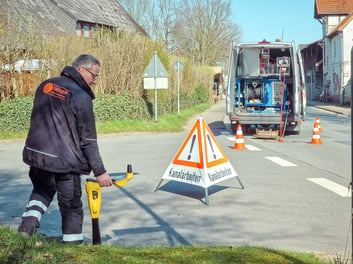 GIS applications like WinCan Map help review and manage data before and after inspections to better understand the general condition of the sewer and identify maintenance needs. Because of this, Jung says "WinCan is a nice labor saver for us," and along with the easy data transfer tools in WinCan, he and the team at Point Orange have been able to improve workflows at every level, from inspection accuracy to maintenance planning.
See how WinCan can improve your team's inspection workflows by scheduling a demo: