Wastewater asset management is a practice many operators use to develop long-term plans for sustaining wastewater systems and services.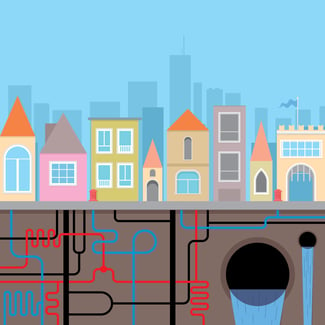 This practice means finding ways to maximize capital and other resources and minimize the cost of maintaining an aging wastewater system, while ensuring it delivers at the desired level.
Wastewater departments are responsible for the maintenance, repairs, rehabilitation and replacements required to keep each asset and the overall system operating optimally. This includes components like pipes, valves, wells, storage tanks, pumps, lift stations, manholes, force mains, collection lines, and more.
However, these needs have to be addressed using the resources available to the department, which can take some creative planning and strategizing.
Asset Management Programs
To develop sustainability while keeping costs to a minimum, many departments adopt asset management programs. These programs are built out with information about each asset in question and its condition, operation and maintenance responsibilities and options, and plans for funding.
There are five core questions used in developing a management program, according to the EPA:
What is the current state of my assets?
What is my required "sustainable" level of service?
Which assets are critical to sustained performance?
What are my minimum life-cycle costs?
What is my best long-term funding strategy?
For example, in outlining minimum life-cycle expenses—which mainly consist of operations and maintenance (O&M), personnel and the capital budget—a department can strategize ways to reduce costs while keeping service level high.
How are we currently addressing O&M needs? Are there more affordable solutions? Which strategies make the most sense for our department? Could we improve on our proactive maintenance work instead of reactive? Are we using the right equipment for the job?
Budgeting Accordingly
From there, a department can look at its long-term funding strategy and decide whether its needs and goals align with the budget.
"Knowing the full economic costs and revenues generated by your water system will enable you to determine your system's financial forecast," according to the EPA. "Your system's financial forecast can then help you decide what changes need to be made to your system's long-term funding strategy."
If the current funding does not sufficiently cover what's required to maintain service, or the rate structure isn't set up accurately to meet long-term needs, a department may revise the rate structure and/or begin looking into alternative finance options, like loans or other financial assistance.
More Information, More Insight
Wastewater asset management helps a department align its resources, and make more informed and cost-effective decisions to preserve its system. A clearly outlined program or plan can assist department managers in distributing responsibilities accordingly, and also help financial decision-makers set budgets.
Overall, there are a number of benefits to wastewater asset management, including maximizing the life of a system by identifying repair or rehabilitation needs early on and having a plan for addressing them; minimizing risks like system collapses or overflows; more informed budgeting and fewer unexpected costs; assurance in meeting wastewater regulations; reducing overall costs for system upkeep; and more.
With WinCan software, easily collect, store and share asset inspection data and upload it into the Rehab Planning Module to begin developing a management strategy. WinCan experts can also seamlessly port data into enterprise asset management platforms for additional risk and criticality assessment. Request a free demo of WinCan VX today to learn more: