Innovation in the wastewater industry is thriving. Sewer teams have begun to adopt technologies like AI and HD video capture to propel everyday workflows. Federal funding from the Bipartisan Infrastructure Law is enabling utilities across the country to address aging infrastructure. And sewer inspection teams of every size are transitioning to cloud-based data solutions that keep them connected and tracking projects more efficiently. The infrastructure world is changing fast, and 2023 is setting the stage for shifts in technology and workflow efficiency.
HD Inspection Video Becoming the Standard
Sewer camera innovation has taken crawler video quality to the next level, and HD video is already changing the way we think about inspection media. With HD developments across the industry's core sewer equipment providers, video quality is taking a front-seat for many operators, who aim to see and identify defects with more certainty. When operators can make faster, more confident decisions about the condition of a pipe, that efficiency is felt throughout the workflow. Results end up being more accurate and pipe criticality more apparent.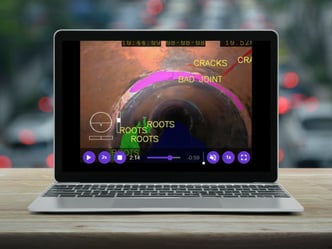 In addition to making defects more visible for human operators, it also enhances the results of AI defect coding engines like Sewermatics. As the AI engine processes the individual pixels in each video frame, it gathers information to help it determine what is in the image. HD video gives the AI more information to work with, increasing the accuracy of outputs.
AI Defect Recognition Fostering Trust in the Industry
Over the last few years, AI has come a long way as a sewer inspection tool. And where once a lack of trust made teams hesitant to adopt AI as a wastewater technology, more and more sewer teams are investing in AI solutions. Moving into 2023, AI is expected to make an even bigger splash as engines continue to hone results and accuracy.
With the established trust in the WinCan brand, sewer teams have already begun to make strides in cutting through backlogs with Sewermatics' AI defect coding service. And with AI defect recognition tools accessible directly from a cloud-based platforms, municipalities and contractors can start to rethink workflows for the long-term, relying on AI as if it were an extension of their crews.
Bipartisan Infrastructure Law Funding More Pipe Maintenance Projects
The EPA has distributed over $1.1 billion in grants from the Bipartisan Infrastructure Law to the first 18 states through the State Revolving Funds (SRF), with more funding on the way. The law allocates more than $50 billion for the EPA to spend on national water infrastructure projects that'll help communities access clean, safe and reliable drinking water. Additionally, it'll grant funds to projects that increase resilience in the face of increasing climate disasters and pollution cleanup. For municipalities with aging sewer infrastructure, the EPA can also supply these funds to wastewater data collection and treatment efforts that protect public health.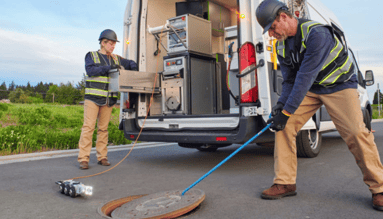 In 2022, EPA awarded SRF capitalization grants to 18 states, including: Arizona, Colorado, Connecticut, Delaware, Hawaii, Maine, Maryland, Massachusetts, Montana, New Hampshire, New Mexico, Pennsylvania, Rhode Island, Utah, Vermont, Virginia, Washington and West Virginia. While these first 18 states represent those that have submitted and obtained EPA's approval of their 2023 funding use plans, a second round of funding is set to roll out for Fiscal Year 2023.
Cloud-based Project Tracking Outpacing Traditional Methods
Transitioning a municipal utility from paper-based workflows to a fully automated cloud system may seem like a big job. It changes the way inspection teams are used to working, and once your crew is in the groove, it can be tempting to let established methods continue. But the eventual move into the cloud has not only become the goal for sewer inspection teams, but it is also becoming the norm.
The cloud allows teams to connect remotely and access data or complete inspection on-the-go. With the ease of data collection that comes with modern inspection equipment, municipalities and contractors are more frequently turning to browser-based solutions that offload important sewer data from local servers to cloud hosting platforms. Not only do these solutions provide more security in the event of malicious activities, but they also make data easily accessible and ready for use.
With AI and cloud-based solutions continuing to propel teams in 2023, sewer inspection projects are expected to become more efficient, from media and data collection to system health and risk analysis. Start the new year off with a free demo of WinCan's AI and cloud innovations: