More data can be gathered at once during manhole inspections than ever before, thanks to a recent integration between CleverScan and the Trimble R2 receiver, in conjunction with a WinCan VX Expert license.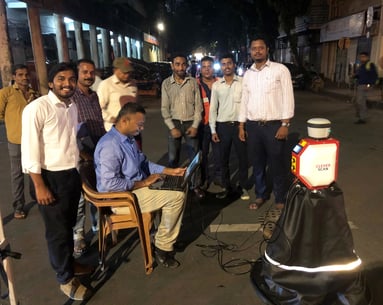 The Trimble R2 GPS receiver can now be easily mounted on top of the rapid, automated manhole inspection system, CleverScan. CleverScan is a compact, lightweight inspection unit with five HD cameras and laser measurement used to deliver a flat scan capturing image detail from every inch of the manhole wall, along with a 3D point cloud mesh.
The GPS receiver helps deliver highly accurate data to GIS and survey professionals — ranging between submeter and centimeter positioning accuracies, depending on the scope and requirements of the work.
The integration means WinCan VX Expert users no longer have to manually create manhole entries in the software. Instead, GPS points can be imported on-site into WinCan VX wirelessly — via a Bluetooth connection from the Trimble R2. The CleverScan can then be launched to perform the inspection from WinCan VX Expert.
The ultimate benefit of the integration is the amount of data that can be captured standing on just one manhole, says Mike Russin, general manager in the Americas for WinCan.
"You can capture all of the internal data of the structure — a detailed look inside the structure — and can also gather the accurate location of the structure above ground," he says. "You can then use WinCan to deliver that data quickly, whether it's through WinCan Web or WinCan Viewer. You can now get all of the internal and external information out to the clients quickly."
Learn more about WinCan VX with a free demo: