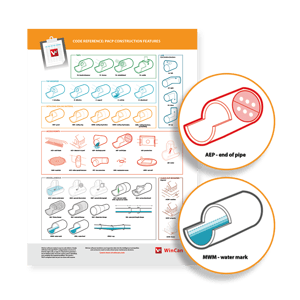 WinCan has released the third and final piece of its PACP Code Reference poster series: Construction Features & Miscellaneous Codes.
NASSCO's Pipeline Assessment Certification Program (PACP) is a detailed system for documenting the condition of underground pipelines. This detail allows camera operators, supervisors and engineers to reliably describe qualitative features of pipe condition for computer analysis, but its complexity and nuance can also be overwhelming for users. This free tool from WinCan provides an illustrated reference guide to help system operators, inspection professionals and engineers improve accuracy and efficiency in documentation and assessment.
The poster details construction features frequently found during the pipeline inspection process, as well as miscellaneous codes often forgotten, to ensure compliance from contractors and municipal operators.
"Consistency in both the sewer inspection and documentation processes is essential to the assessment and management of wastewater systems," says Mike Russin, Business Manager for WinCan in the Americas. "We understand it can be difficult to keep track of them all, so we are thrilled to provide another free guide to aid in the inspection process."
Request a free copy of the poster by mail.