Like most of America, the village of Addison, IL sits on aging sewer infrastructure. But investment in new tools and technology have helped Addison sustain a healthy system in the face of population growth.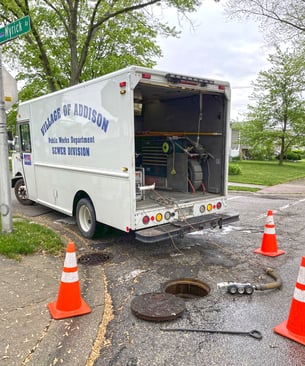 The Chicago suburb's sewer division has made significant changes to its workflow over the past five years to adapt for new development, but Addison isn't quite done growing. With the addition of two new subdivisions, the village anticipates added wear and tear on aging sewer infrastructure, and the sewer division is outfitting itself with the future in mind.
Jim Rhoads, the assistant supervisor of the sewer division, has been with Addison for 30 years. He and his team maintain 120 miles of sanitary lines, 73 miles of storm lines, and eight miles of combination lines. This includes residential laterals, a mandatory addition intended to prevent potential hazards from boring projects. It's a big job for a team that once contracted out all of its pipe inspection work. But after investing in new inspection software and a sewer crawler, Rhoads and his crew prioritize and finish inspection projects faster, allowing them to complete up to 1,800 cleanouts per year.
Taking Inspection Efficiency Into Their Own Hands
Just five years ago, Addison's sewer division was spending more than $50k per year on contracted sewer inspection projects. Now, Rhoads does the same work with a team of five and a WinCan VX license.
In 2017, Rhoads and Sean Quinn, supervisor of the sewer division, began scouring the market. They needed the right inspection software and a reliable sewer crawler to shoulder the inspection workload of the village. When the two decided on WinCan VX and a ROVVER X crawler from Envirosight, they quickly realized a new world of data had opened up to them.
"There is much more information attached to the pipe segments now," says Rhoads. "Everything is catalogued, and not only are we using this data for inspection projects, we're also using it for our high-velocity jetting."
Soon after they started using WinCan, the team began taking advantage of the software's integrations with Lucity, finally connecting Addison's sewer infrastructure data to a municipality-wide database of assets. Next, Rhoads hopes to upgrade to a lateral launch crawler to further improve efficiency on village-mandated lateral inspections, and be ready for the increasing population of Addison.
Mapping Out the Future
Like many municipalities with aging infrastructure, Addison regularly faces I&I challenges, and two new subdivisions are expected to further strain the existing system. Rhoads and his team expect the system to require more frequent rehabilitation efforts and more in-depth analysis of pipe data.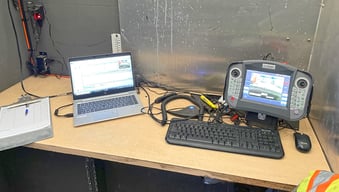 Luckily, the whole village of Addison uses CentralSquare EAM (Powered by Lucity) for asset management, and with WinCan's integrations with Lucity and Esri ArcGIS, Rhoads is able to plan work orders ahead of time, and inspect sewers more quickly and efficiently.
"Esri has made our mapping so much easier to read and understand," Rhoads says. "If you go back 20 years, our sewer maps were hard to look at. You couldn't tell which way the water was flowing or which pipes went where. Now it's much clearer, and anyone on our team can go in and see why a pipe has flooded or which pipes need to be jetted."
The integrations between WinCan, Lucity and Esri have allowed Rhoads to streamline his workflow to the point where he can now complete the majority of pipe inspections by himself. From building his work order in Lucity, to completing inspection and conducting analysis with ArcGIS, having all the infrastructure data in one accessible place has made all the difference.
Learn more about WinCan's integrations with a demo of WinCan VX: