WinCan recently received the Solution Alignment Award at the 2022 Esri Infrastructure Management and GIS (IMGIS) Conference held in Palm Springs, California. The award was presented to WinCan for demonstrating innovative and creative ways to solve complex problems with Esri's ArcGIS software.

Esri is the global leader in location intelligence with a network of over 3000 partners around the world, and WinCan is a Silver Tier Partner that delivers sewer inspection solutions. Powered by AI and cloud technology, WinCan delivers the precision inspection teams need to collect and code while providing the analyzing power GIS teams need to track and report on underground infrastructure. WinCan's integration with Esri's ArcGIS not only expedites GIS workflows, but it also allows teams to quickly identify priorities and risks that may be affecting infrastructure performance.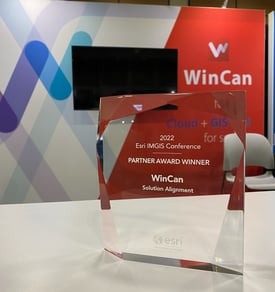 "Esri congratulates WinCan on their 2022 IMGIS award in recognition of their innovative work leveraging ArcGIS software," said Robert Laudati, Director of Global Partners and Alliances at Esri. "We are proud to partner with WinCan to foster the use of GIS technology in support of our mutual customers improving infrastructure."
"WinCan's partnership with Esri has been a driving factor behind the GIS innovation at WinCan," said Mike Russin, WinCan's General Manager for the Americas. "We are beyond grateful to be honored with Esri's Solution Alignment Award, and we plan to continue building on the partnership and alignment we share with Esri, delivering the most flexible and integrated sewer inspection solutions on the market."
Esri, the global market leader in geographic information system (GIS) software, location intelligence, and mapping, helps customers unlock the full potential of data to improve operational and business results.
Curious to know more about WinCan's integration with Esri? Schedule a free demo today.