When your sewer team works closely with other municipal departments, it's essential to have clear pathways from your inspection database to your asset database. WinCan's integration with Cartegraph's municipal asset management platform enables wastewater utilities to work closely with broader infrastructure teams to ensure that the city's data is accurate, up-to-date and ready for analysis. Designed to help communities sync their sewer data and streamline their asset management workflows, Cartegraph is a natural companion for WinCan's sewer inspection management capabilities. Our integration delivers a fast, complete data transfer that supports more flexible workflows and helps you get the most out of both solutions.
Partnering for Smarter Workflows

WinCan's core mission has long encompassed innovation and flexibility. Partnering with Cartegraph accomplishes this mission by giving sewer inspection teams a new way to connect their data with broader infrastructure databases. Municipalities are looking for smarter ways to expedite workflows, reserve bandwidth and minimize unnecessary expenditures. That's what Cartegraph and WinCan deliver.
"WinCan's integration with Cartegraph is essential for sewer teams keeping municipal asset databases clean and ready for any infrastructure project that comes along," said Mike Russin, WinCan's general manager for North America. "Users on both sides can connect, collaborate and tackle data challenges more quickly and efficiently than they ever could with manual data re-entry methods."
How Does the Integration Work?
WinCan Office VX keeps sewer teams connected to their data and their collaborators, and users can easily check Settings to make sure third-party integrations are live. Simply login with your Cartegraph username and password and you'll be ready to go.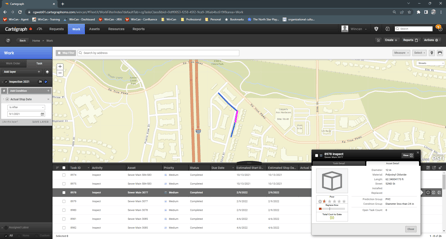 The workflow begins in WinCan Maps or Esri's ArcGIS, where operators can grab a section of pipes from their GIS map and build a work order that populates in WinCan Office VX.
Complete your inspection in WinCan as usual, inputting necessary sewer and operator data. Then, navigate to the Data Exchange tab, where you'll find the Cartegraph export button. With a click, your inspection data is instantly available in Cartegraph's asset management platform.
From WinCan's online platform, all it takes is a click of the Cartegraph export button to seamlessly integrate inspection data with your asset database.
Schedule a WinCan demo to learn how our integration with Cartegraph is changing the way sewer teams manage their asset data.