Since its launch, Sewermatics has set the standard for innovative applications of AI in the wastewater industry. Accurate, organized data is essential to sewer maintenance, and WinCan has combined digital workflows with cloud-based integrations to ensure data is always where it needs to be. Sewermatics takes that data a step further, processing and coding inspection media with unrivaled speed and efficiency.
As machine learning continues to transform the wastewater industry, WinCan has focused on refining AI engine performance and, in turn, improving the accuracy of results. To achieve this, WinCan has expanded the Sewermatics team, bringing industry expertise to the forefront of AI development and prioritizing highly effective AI training methods.
The Beginning of Sewermatics AI
When WinCan pioneered the market for sewer inspection software more than 30 years ago, AI was just a concept, not an implementable technology. But as digital inspection became more prevalent, WinCan led the way with innovations like cloud-based data and workflows, as well as seamless integration with enterprise applications. Those innovations laid the foundation for AI implementation. In recent years, WinCan has pursued AI in earnest with a full team of sewer experts and developers.
"Many sewer teams are overwhelmed with their coding workload," says Yaman Omar, Head of Sewermatics AI. "They need a reliable way to ensure their inspections are carefully reviewed, media is accurately coded, and data is accessible anywhere, anytime. That's where Sewermatics comes in."
Prioritizing Effective Workflows
Sewermatics AI is powered by WinCan, the original sewer inspection software and the most trusted name in the industry. It's designed with flexibility in mind, adapting to inspection workflows at any level. Whether your team is post-coding pipeline inspections or offloading manhole scans for batch processing, Sewermatics AI can accurately identify and code defects in inspection footage more than ten times faster than the playback speed of the video itself. This means that while an operator may spend ten minutes reviewing and coding a single section, Sewermatics AI can review the same video in less than one minute. From there, a simple QA process ensures codes meet PACP, MACP or LACP standards.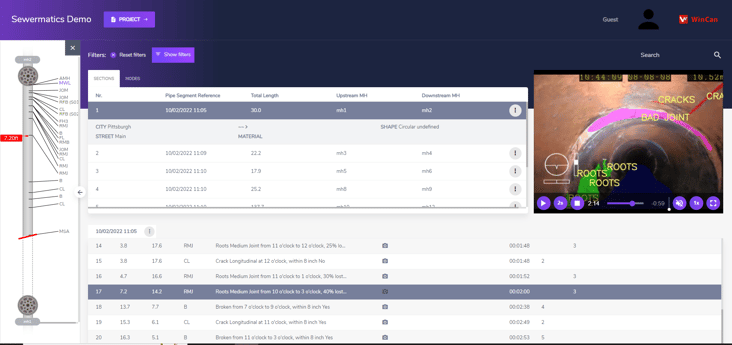 Achieving High Speed and Accuracy
To make Sewermatics AI the best automatic defect coding solution on the market, WinCan has doubled down on its investment in the technology. More development personnel have been hired to expedite AI training. Greater focus on training image quality will boost accuracy across NASSCO, WRc and ISYBAU coding standards. And by investing in even better AI training, WinCan is working to ensure Sewermatics AI defect coding always leads the field in both speed and accuracy.
To learn more about how Sewermatics AI is already helping sewer teams get work done faster, schedule a consultation: