Managing capital assets like wastewater infrastructure requires departments to keep maintenance and ownership costs low while ensuring service levels remains high.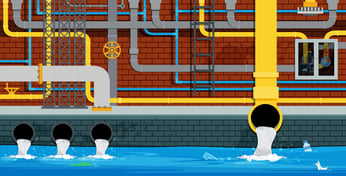 This can be a complex process, but there are digital asset management programs available with tools to help wastewater departments organize their assets and strategically plan for the future, while keeping costs top-of-mind. These programs give departments a way to easily visualize their system and identify problem-areas, prioritize risks, compare rehabilitation methods, develop short and long term budgets, and more.
While it requires some upfront effort and investment from the department, the ROI for utilizing wastewater asset management programs is substantial, including cost-savings on maintenance, repairs and rehabilitation; minimized risks for issues like overflows or system collapses; and a prolonged system lifetime. Below are some of the most common tools used.
Maps
Most asset management platforms include an ArcGIS mapping tool for better visualization. Departments can map out their assets with the accurate location data and any inspection information. Heat maps may also be used to more clearly identify critical areas, or clusters spots, based on the data. Departments can then use the visual aid to make decisions. For example, is the cluster near a hospital, in an earthquake zone or near a large gas line or other major utility?
Risk Assessment
Using the inspection data collected about individual assets, operators can start understanding the health of each asset and the system as a whole. That data can be used to identify, compare and prioritize issues so they can be addressed in order of importance and work proactively rather than reactively. It can also help departments prepare for emergency events.
Maintenance History and Scheduling
Asset management programs can also help departments stay organized internally. Rather than relying on verbal communications to ensure repairs are happening, many of these platforms offer a way for crew members to see their tasks and mark their progress in real-time so no issue is left unaddressed. Department leaders can schedule and assign work using the software and check to make sure it's completed on time.
Budgeting

Because wastewater departments are actively trying to keep costs down while keeping service levels high, budgeting tools are some of the most important features of asset management platforms.
Understanding the health of individual assets and the system as a whole, as well as how each asset affects finances overall, can help departments determine how they should be distributing their money. Some platforms also offer price-comparison tools to contrast different rehabilitation methods and determine the most cost-effective way to get the job done.
In general, asset management programs can help departments save money in both the short and long term by addressing needs proactively to avoid emergency work and costs; using the most cost-effective method for the job; and enabling operators to objectively look at average monthly or yearly costs and identify areas they can save, to name a few.
---
WinCan seamlessly integrates with a number of asset management platforms so you can get the most out of your inspection data and form a comprehensive plan for your wastewater infrastructure's future. Learn more about these integrations: