Legacy data provides wastewater professionals the opportunity to review the history of defects for a given section, monitor rates of deterioration, and make more informed decisions on when and how to repair infrastructure. However, the condition of legacy data makes a significant difference in the value that it provides to municipalities. In particular, data security, accessibility and quality are all crucial to successfully managing wastewater infrastructure and sustaining data hygiene.
Data hygiene is the ongoing practice of maintaining healthy data, or data that is ready for use and free of major errors. It most commonly takes place in the form of quality checks during or immediately after data entry, or when data is transferred from one platform to another. Being mindful of data hygiene yields more completeness, conformity, consistency, and accuracy in the database. For many municipalities, data hygiene is essential to the efficacy and, more importantly, the security of sensitive wastewater data.
Security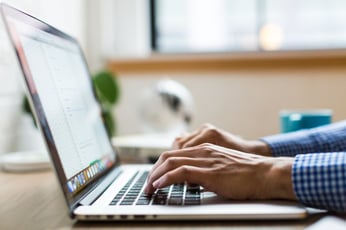 More data is being exchanged than ever before, and security is a growing concern for municipalities whose sewer data is often exchanged with contractors. Keeping wastewater data safe in the event of security breaches or other loss events is a priority due to the sensitive nature of the data, as well as the timelines and decision-making that relies on complete and accurate information. To that end, sewer inspection software like WinCan VX provides data backups, version management, secure cloud storage and access control to help protect and manage data with lower risk of loss.
Backup & Redundancy: Creating redundancy via backups stored in multiple locations is key to securing inspection data against loss. WinCan VX gives users the ability to quickly backup and restore project files to and from local drives or cloud-based WinCan Web. Having files saved in multiple locations may seem like it's building clutter, but in reality, it provides a safeguard against computer crashes, overwriting and other potential loss.


Cloud Storage: Local drives are no longer the most secure storage options. Cloud storage allows your data to live safely on protected servers that often require login credentials to access. While hackers can easily slip malware into your computer via emails and unsecured websites, files stored on cloud servers are often encrypted and much more secure. Moreover, cloud storage has built-in redundancy so you don't need to maintain multiple copies.



Access Control

: Many municipalities hold sensitive infrastructure data, making control over user access vital to data security. Knowing who has access to your data and having a means of limiting or expanding that access helps you ensure that sensitive data is always in the right hands. This creates accountability and peace of mind, but more importantly, it adds another layer of protection for your data. Recently, a Florida water treatment plant faced a security breach in which a hacker tried to change the levels of treatment chemicals to dangerous levels, reinforcing the notion that access control is essential for all aspects of the wastewater industry.


Versioning: Documents, spreadsheets and project files often end up with multiple iterations as edits are made, and it's often impossible to merge them back into a single data set that represents all the updates. Versioning gives users the ability to retain project iterations while building on the most recent version. This is becoming increasingly common among word processors and spreadsheets deployed on browser-based platforms, and it helps prevent user errors that might result in lost data or decision-making based on outdated data.
Accessibility
While access control is important for data security, it's equally important to be able to effectively access your data when, where and how you need to. There are two factors at play in data accessibility. The first is portability, or the ability to use the data on multiple platforms. Software integrations take advantage of this portability, linking two platforms together for immediate and secure transfer of data. This is especially true for wastewater professionals whose workflows may require them to build work orders in an asset management platform like Cityworks or Lucity before transferring that data to WinCan VX for inspection.

The second factor at play in data accessibility is cloud access, which has made it easier for wastewater professionals to get hold of and update important data while out in the field. When your data is accessible via any browser, it's readily available for use whenever you need it. For WinCan users, the Web Project Manager allows for immediate uploading, downloading and access link creation. This provides control over access, but it also lets approved users gain access when and how they need to.
Quality & Cleanliness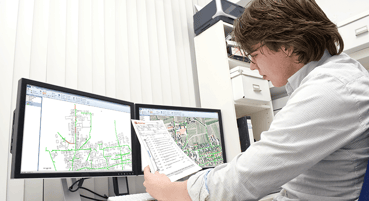 In general, the most time spent with data is usually on cleaning that data, which is why inspection software that can quickly identify and fix multiple data issues at once is so valuable. WinCan users have tools like the Validator and Search & Replace to do just that. However, keeping data at high quality standards requires ongoing maintenance and consistent data hygiene practices.

The goal is to create data that is reliable and easy to use, so addressing issues in accuracy, completeness and consistency are key. One way this is done in the wastewater industry is through standardization. For instance, WinCan helps users keep data standardized to a variety of inspection standards, including NASSCO's PACP, MACP and LACP, by validating data as it's entered. Data can't leave WinCan without this information, ensuring the data is consistent and complete upon export.

The cleaner, more accessible, and more secure wastewater data is, the more value it brings to a municipality. Sewer infrastructure data is sensitive, and being able to trust that data is in the right hands allows for more attention on using it effectively. But remember, data can only be used to its full potential if it is clean and accessible when needed. WinCan is a sewer inspection software that ensures users check all of these boxes, with a variety of data management tools, seamless integrations with industry partners and secure cloud storage via WinCan Web.

Learn more about how WinCan supports data hygiene and safety by requesting a demo: