WinCan has always evolved to meet the needs of the wastewater industry. Now, in a continued commitment to industry-leading sewer inspection solutions, WinCan is proud to introduce Sewermatics, a new collection of AI-powered services that help you get more out of your inspection data.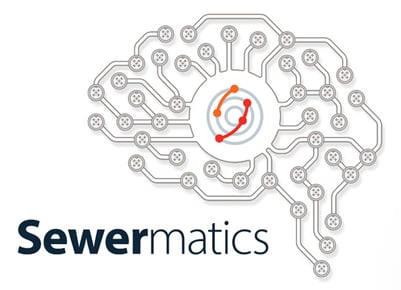 The wastewater industry is collecting more data than ever before, and municipalities are facing new challenges in the management and analysis of that data. In many cases, inspection teams have backlogs of valuable legacy data that could prove useful in rehab planning, while others struggle to manage sewer assets without knowing exactly where they are in the ground. Others still are working overtime to recode defects in poorly inspected CCTV footage, or untangle redundant project versions, dissimilar file formats and complicated deliverables.
Sewermatics gives municipalities and contractors the ability to offload any or all of these struggles onto the Sewermatics team, which is made up of sewer professionals supported by cutting-edge AI technology. They are NASSCO-trained, fully conversant in WinCan's many features and integrations, and fluent in the world's most common inspection standards, including PACP/LACP/MACP, WRc and ISYBAU. And because they have the power of AI on their side, they provide unsurpassed accuracy and expedited processing on all coding and labeling projects.
AI-Supported Defect Coding Lets Municipalities Offload or QA Inspection Footage.
Inspection teams can collect hours of CCTV footage on a single project, leading to spikes in coding work and bottlenecks at vital QA/QC checkpoints, where accuracy is essential. And that's if your team can afford a full-time QA and coding specialist.
Sewermatics offers AI-supported defect coding that begins with the speed and efficiency of machine vision and ends with a thorough QA/QC review with a NASSCO-trained team of coding specialists. Not only does it alleviate your workload and accelerate your progress, it minimizes user error and brings out the value in legacy data. And because your projects are coded by WinCan employees with years of inspection experience, you can trust in the results and the Sewermatics method.
Expert Data Conversion Improves Value and Reliability of Legacy Data.
There isn't a lot you can do with data that's trapped in a format or platform you no longer use. When you switch to WinCan, our Sewermatics team can help transfer your data from any software or database into NASSCO's PACP 7 or your chosen inspection standard. This helps you certify your inspection data, access legacy data that would otherwise be unusable and give you back your data freedom.
Cloud Hosting Reduces Risk, Increases Accessibility and Streamlines Deliverables.
When your data is cloud-hosted through WinCan Web, you don't have to worry about maintaining on-premise servers, which means your data is at a lower risk of loss. Inspection projects are with you everywhere you go, as long as you have a browser and internet connection. Seamless integration with WinCan VX means you can quickly transfer project data back and forth for quick revision, backup or validation. And when it comes to remote collaboration, WinCan Web hosting gives you the ability to make customized deliverables that can be sent quickly and easily with direct links for recipients. Recipients with a WinCan Web license can interact with the source inspection data, while those who don't have a license can view the deliverable in a browser-based viewer.
GIS Integrations Allow for Enhanced Data Visualization and Asset Management.
Effective asset management requires precise data on the location and position of every pipe, manhole and lateral in your sewer network. GIS services from Sewermatics seamlessly integrate WinCan VX with a variety of industry-leading asset management and mapping partners, such as Esri's ArcGIS, Cityworks, CentralSquare EAM (powered by Lucity) and Cartegraph. With multiple avenues for data visualization and greater insight into where pipes lay, engineers can now make more informed decisions in planning inspections and rehabilitation projects, saving time and money.
The advent of Sewermatics data services ushers in a new era for WinCan and the wastewater industry. Inspection teams are collecting more data than ever before and getting more out of it with Sewermatics. Wastewater is a data-centric industry, and now, inspection teams have a solution to their biggest data management and analysis challenges.
Schedule a consultation with our Sewermatics team to learn more: