Manhole inspections pose complex challenges for inspection crews and maintenance planners. Not only do they require different camera equipment than pipelines, but manhole inspections also have different data collection needs including multi-level inspection procedures.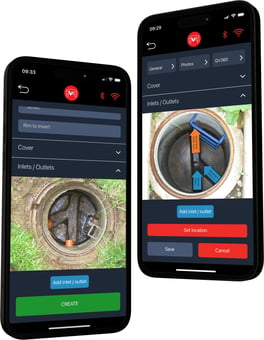 WinCan Mobile is a sewer inspection application for smart devices that helps collect, organize and share manhole inspection data. It allows operators to quickly record asset dimensions, material, construction, system information and much more. This data is tied to a geographical location, which allows users to transfer data into GIS software and support planning via asset management integrations like Trimble's Cityworks or CentralSquare EAM.
You can also snap photos of the asset's condition, making it easy to identify key defects and determine future maintenance. When inspections are complete, the project syncs back up to WinCan Web, where it can be processed and reviewed.
Streamline Manhole Project Creation
With WinCan in your pocket, inspection teams can conduct initial manhole assessments without the need for a dedicated inspection vehicle or camera equipment. Operators can simply fill out preliminary manhole data from their smartphone before they even reach the manhole, creating a WinCan project that's ready to receive conditional data and photos.
Once it's synced to the cloud, WinCan Mobile projects will appear in the usual Projects List found in the WinCan Web portal. Based on inspection results, users can edit the project, export and share a report, and assign the project for further inspection from WinCan Enterprise's Inspection Manager.
Watch: WinCan Mobile Captures Manhole Data
Get started using the WinCan Mobile app today by downloading it for free from the Apple Store or Google Play! Or schedule a free demo with a WinCan professional to learn more: