Good data is ready for analysis when you are. Sewers are essential infrastructure, and prompt, actionable inspection results help keep our communities safe, healthy and clean. In today's world, that means seamless, bidirectional data transfer that keeps databases updated in real time, with results rippling throughout the system to enable data-driven maintenance decisions.
WinCan has a variety of data solutions, ranging from AI-defect coding to GIS visualization. And one of the most important to our municipal customers is WinCan's integration with industry-leading GIS and asset management platforms. These integrations eliminate the need for slow manual data reentry, clumsy third party workflows, and unnecessary data loss between collection and analysis. See how WinCan is helping communities across American make this a reality:
Real-time Editing Capabilities
"In the past, we were limited by technology," said Chris Zeitner, GIS database administrator for the city of Springfield, Oregon. "And this resulted in asset data deficiencies and unreliable inventory information." He added that the Springfield database had suffered from complex data irregularities and experienced significant latency between data capture and data publishing.
Today, using the integrated tools in WinCan and ArcGIS, Springfield staff are able to view data about specific pipe sections and start making more informed decisions about which pipes need maintenance. Now, Zeitner says that operators have more autonomy in the field.
"The WinCan integration with Esri has allowed us to give staff real-time editing capabilities," he said. "So if they notice a discrepancy in pipe length or material, they can correct it immediately, and the change will be reflected throughout our system."
Enhanced Data Workflow Efficiency
Jim Rhoads, the assistant supervisor of the sewer division, and his team at the Village of Addison, Illinois maintain 120 miles of sanitary lines. But now, Rhoads does more inspections with a team of five and a WinCan VX license than he ever did working with contractors.
"There is much more information attached to the pipe segments now," says Rhoads. "Everything is cataloged, and not only are we using this data for inspection projects, we're also using it for our high-velocity jetting."
The integration between WinCan and Esri has allowed Rhoads to streamline his workflow to the point where he can now complete the majority of pipe inspections by himself, updating his asset management database along the way.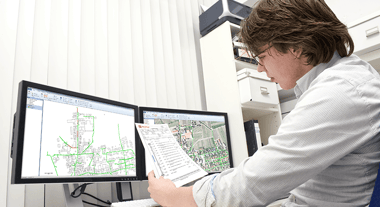 "Esri has made our mapping so much easier to read and understand," Rhoads says. "If you go back 20 years, our sewer maps were hard to look at. You couldn't tell which way the water was flowing or which pipes went where. Now it's much clearer, and anyone on our team can go in and see why a pipe has flooded or which pipes need to be jetted."
Custom Deliverables, Actionable Data
Another proponent of WinCan's integration with ArcGIS, the City of Lebanon Authority in Pennsylvania has improved data flow to their wastewater asset databases, enhancing planning and efficiency and in turn saving money on inspection and rehabilitation.
"Internally, the WinCan platform has helped us plan and execute a better sewer inspection program and use the end deliverable to create an action plan that we can present to our board," says Eric Shearer, assistant maintenance manager at the City of Lebanon Authority. "We just didn't realize how much money we'd save and how efficient and effective our sewer inspection workflow would become by implementing the WinCan VX platform."
To see why municipalities turn to WinCan for seamless integration with asset management platforms, schedule a demo: