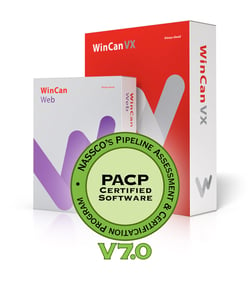 WinCan holds certification for more than 30 regional standards around the globe, helping solidify its world leadership within the sewer asset management industry and demonstrating its commitment to providing high quality software. Most recently, the National Association of Sewer Service Companies (NASSCO) awarded WinCan with certification for Version 7 of the industry-standard Pipeline Assessment Certification Program (PACP).
Certification in this latest version of PACP requires a variety of technical updates, including:
Scoring Validation: NASSCO-tested export capabilities for grade scoring in the PACP Exchange database.

Defect Codes: Addition and/or reorganization of codes, modifiers and condition grades.

Appendices: For identification of pipe materials, and for asset management with considerations for likelihood of failure (LoF), consequence of failure (CoF) and risk.
Standards support continues to be one of WinCan's most well-known qualities and the company continues to nurture a relationship with NASSCO to provide customers with the most innovative and versatile technology available. Learn more about WinCan's software and request a demo of the cloud-based system, WinCan Web: