Serving more than 80,000 people in Goleta Valley, California, the Goleta Sanitary District is on a mission to promote public health and environmental safety. The District has made major investments in a long-range capital improvement plan that seeks to consolidate data formats and conduct essential replacement and rehab projects over ten years. The plan uses detailed criteria to correct structural and hydraulic defects for nearly 7,000 underground assets, minimizing risk of infrastructure failure throughout the collection system.
As part of this initiative, Goleta collection system manager Luis Astorga tapped into the power of WinCan software to propel data from the field into the hands of contractors and board members. The team worked with a cleaning and televising contractor, National Plant Services, as well as an asset management contractor, Hazen and Sawyer, which requested WinCan inspection reports above all other data formats.
For Astorga and his team, collaboration has become key to the District's efforts. And smoother reporting workflows have helped the team identify and prioritize at-risk areas while keeping data organized and compliant with NASSCO inspection standards.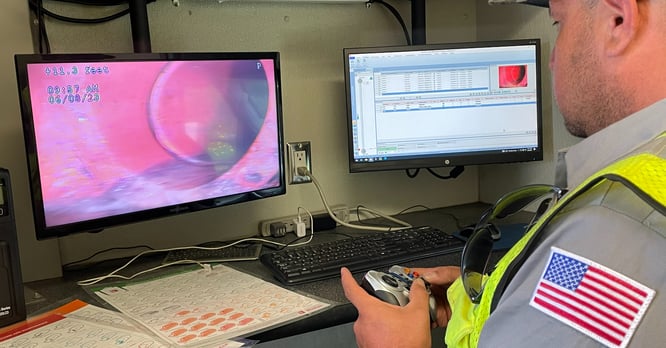 Modernizing and Consolidating Data Formats
Before the District's Capital Improvement Plan could begin, the team had to bring together all of the data that had accumulated in different formats over the years. From VHS tapes and voiceovers to CDs and data disks, legacy data in various formats was reviewed to identify what was salvageable and what would be prioritized for re-inspection.
"We had about a third of the system in a NASSCO compliant format that was readily exportable," said Astorga. "So, we had approximately 360,000 feet of linear pipe that we needed to televise. Our goal was to have the whole system inspected and in NASSCO format in a four- to five-year timeframe at most."
To meet that goal, the team split the workload with inspection and cleaning contractor National Plant Services to ensure inspections could be completed as quickly as possible. Equipped with WinCan and a mix of Envirosight and CUES inspection equipment, the team hatched a plan to divide and conquer.
"We gave them all the residential, low speed, low volume, and quick setup inspections, about 185,000 feet total," said Astorga. "Our staff took on the remainder: All the easements, all the high traffic areas. Areas where the District had more familiarity with the city's traffic control procedures."
Collection system supervisor Shamus O'Donnell says they finished up with just a few outliers requiring extra attention. Inspection lead Braden Stribling was the principal field operator on the job along with CCTV operators Sam Madera, Edgar Guerrero and Loren Barringer. Together, the team worked through the CCTV part of the project in just six months, and data processing workflows were already in motion.
Prioritizing Maintenance Through Collaboration
Despite COVID-related complications, swift progress on televising led to the collection of around 3,000 new inspections. That data, along with relevant legacy data, was used to identify condition ratings that helped O'Donnell and Stribling pinpoint rehab and maintenance priorities. To accomplish this, they needed the right tools to process and share data with collaborators. A workflow balanced with WinCan, CentralSquare EAM (powered by Lucity), and Esri's ArcGIS allowed the District's team to both meet and exceed timeline expectations by strategically planning inspection and maintenance efforts.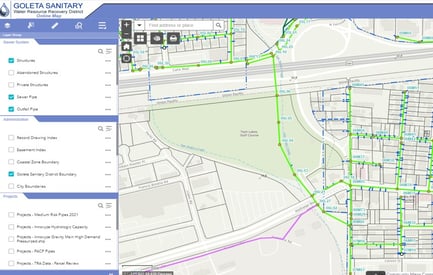 "My goal is to export all that information into Lucity so the guys can look at the reports, and all the observations are right there," said O'Donnell. "We've done more than a couple exports, and now we just need to do our mass export to get everything there at their fingertips."
Echoing the importance of centralized data, Astorga said, "Being able to use WinCan to put data in a centralized location means information is readily available both for the field crews and for myself and senior project engineer Reese Wilson and district general manager Steve Wagner who frontrun the asset management program and give presentations to our governing board, the public and other agencies. Information is readily available, and we can give a high altitude look at the system or scroll down and get into the weeds." The District 10-Year Capital Improvement Program can be viewed here.
With integrated software solutions that span every level of collection system management, Astorga and O'Donnell have been able to track progress as well as prioritize sections with higher condition ratings, preventing failure and keeping the community safe from hazardous spills.
Fine-tuning Workflows With WinCan
Goleta Sanitary District had a big task at-hand, but they also had the tools simplify and expedite their inspection and data processing workflows. With WinCan, Astorga and his team were able to address customer calls and collaborative projects without cumbersome data transfer methods. From the field, Stribling emphasized the value of personalized layouts and intuitive UI, and how that translates to value for customers.
"I'm just amazed that any homeowner can call our office and I can just go find a picture of their lateral," said Stribling. "We can track down the lateral of pretty much every house in the District, which is a pretty cool thing when you think about it. And the customer is always impressed by it."
From the office, O'Donnell said it's the ease of collaborating, organizing and working with WinCan's support team that makes all the difference for his day-to-day work. In the field, WinCan's ease of use has made it relatively straightforward for the training of new District CCTV inspector Richard Castillo.
"As contractors need different data, it's easy for us to print out a report, whether it's just one piece of information on the line or the whole thing," said O'Donnell. "It's all at our fingertips now. We have gotten everything a little more organized and centralized than the data used to be."
With integrated data and expedited inspection workflows, Goleta Sanitary District has already made major strides just a few years into its 10-year capital improvement plan. With WinCan in hand, key steps have been taken to create a living asset database to inform maintenance decisions for infrastructure across the city.
Learn more about WinCan's integrated workflows and how they support utilities at every level: