Geneva, Switzerland — capital of the Genève canton and the second most populated city in the country — is an iconic municipality situated on the southwestern border with France. It's here at the foot of the Alps that V. Guimet Fils SA works to provide maintenance and sanitation services to improve community health and protect the local environment. With more than 100 employees and 40 rapid intervention vehicles on standby, the Guimet Fils SA team boasts 24-hour service, conducting inspections and rehabilitation projects for the entire canton, an area of over 100 square miles (280 km2).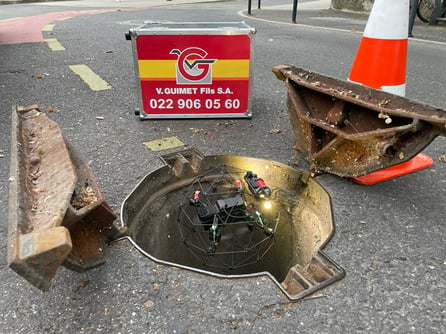 The team has three crews dedicated to pipe inspection alone, and Eduardo Carrara, technical director at V. Guimet Fils SA, says their 20-year relationship with WinCan has continued to pay off by providing exceptional inspection tools. Along with area manager Anthony Ramirez and draughtswoman Virginie Schule, Carrara relies on a variety of WinCan solutions, including WinCan Map and Draw. But most notable is the team's use of WinCan's drone data import.
Pairing WinCan With Drone Hardware
Although the team's inspection workflow is fairly traditional from collection to analysis, certain sewer infrastructure allows Guimet Fils SA to trade their camera crawler for a sewer inspection drone. Controlled in a similar fashion to sewer crawlers, Carrara's drone, the Elios 2 from Flyability, sees the most use in high-flow sewer systems, including those along the northern banks of Lake Geneva.
"The idea was to find a solution that was both innovative and safe," says Carrara. "We wanted to differentiate ourselves from the competition and offer a complementary service for large diameter pipe inspections."
While sewer crawlers are ideal for a wide range of inspection scenarios, drones have proven to be an effective replacement for situations that require human entry. In these cases, drones can lower inspection costs by about 40% per meter inspected. With their ongoing WinCan subscription, the Guimet Fils SA team has seen a significant increase in annual rate of return compared to their annual investment.
"Previously, these pipes were inspected by a person who was sent inside the sewer with a portable camera," says Carrara. "This method can be very dangerous. With the drone, we gain in safety and profitability."
However, a team's inspection data is only as good as their pre-planning and final deliverable, which is why Guimet Fils SA also relies on powerful software applications for sewer inspection.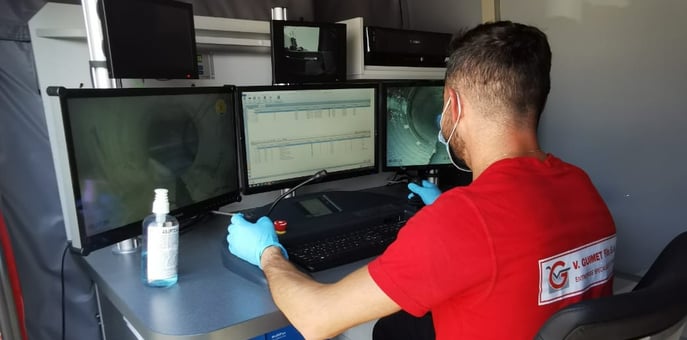 Harnessing Mapping and Reporting Tools
In addition to their Elios 2 drone, Guimet Fils SA opted to enhance their GIS capabilities with WinCan Map and AutoCAD. WinCan Map has enabled the team to overlay system maps with inspection data and orient field crews before executing on a work order. Back in the office, the team can use AutoCAD to create a 3D layout of design and rehabilitation projects before spending any money. And planning is even conducted with WinCan Draw, informing condition assessment work orders before crews venture out to the jobsite.
Carrara and his team say it's the convenience and quality of these software solutions that keep them on the lookout for innovative alternatives to existing workflows.
"We try to exceed all expectations on every job by providing an accurate report and providing solutions tailored to our partners' needs," says Carrara, who emphasizes WinCan's ability to build comprehensive deliverables. "Most of the modules are easy to use, which allows us to obtain a valuable report at the end of each inspection."
As the sewer inspection industry evolves, utilities like V. Guimet Fils SA are finding innovative ways to boost efficiency at every level, no matter the situation. Schedule a demo to see how WinCan fits into your inspection workflow: